JESSY SMART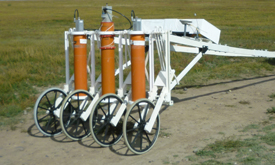 non-magnetic vehicle with measurement channels
JESSY SMART is a novel measuring device for fast three-dimensional geomagnetic mapping of hidden subsurface anomalies.
JESSY SMART localizes smallest earth magnetic field gradient inhomogenities in a depths of up to
approx. 10 meters. The sensors are mounted onto a cart which can be moved attached to a motor car or alternatively pushed along manually.
To achieve the highest detection rates the system applies the most sensitive sensors presently available, Superconducting Quantuum Interference Devices (SQUIDs).
Advantages compared to conventional geomagnetic methods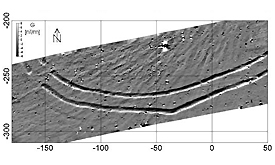 Magnetogram of backfilled Neolithic ring ditches near Weimar, Thuringia
highest possible magnetic field resolution (sensor 7 fT/cm)
fast mapping of measuring area (up to 7 acre and accordingly 3 ha/hour)
very accurate position and spatial resolution of data in cm range)
measurement in difficult ground, environment, and climate conditions possible
nondestructive measuring and a high planning reliability

Application fields
Archeology:
Nondestructive detection of hidden anthropological remnants: e.g. metal objects, building structures, cavities, charcoal, ashes, clay, ceramics, bricks.
Case Study I-Archeology
Case Study II-Archeology
Building ground analysis:
Remnants of foundations, fillings, metal materials, power lines, pipelines, unexploded ordinances, ground contaminations.
Case Study III-Building ground analysis
Case Study IV-Building ground analysis
Geology:
detection of geological formations, river structures, natural magnetic anomalies, natural resources.
Localisation of unexploded ordnances:
unexploded bombs, weapons and munitions.
Case Study V-Localisation of unexploded ordnances (UXO)
Case Study VI-Localisation of unexploded ordnances (UXO)