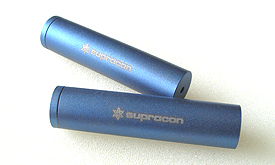 superconducting magnetic screening for current sensors
The SQUID sensor portfolio comprises current sensors, magnetometer and gradiometer. Customers can resort to both approved standard models as wells as tailored solutions.
All models are manufatured using the well-established and over many years refined Nb/Al – AlOX/Nb-technology. The sensors are sealed in a glassfiber reinforced plastic package allowing an easy and well protected handling.
Supracon SQUID sensors are suitable for the application immersed in liquid helium on the one hand and in vacuum on the other.
Each sensor passes an extensive testing procedure.Only sensors which sustain multiple thermocycles will be delivered to the customer. Therefore we can assure the highest longevity and quality standards.
Please select for more detailed information from the following categories: