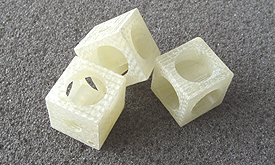 glass fibre reinforced plastic holder for SQUID model 3Dgreen
Supracon
SQUID magnetometer
were designed for extremely sensitive measurements of small magnetic fields, such as biomagnetic signals of the heart or brain.
The customer can choose between standard sensors of different sensitivities adapted to his particular application.
Supracon also develops together with the customer specific designs to create the optimal solution for the individual measuring task.
Please consult the following table for an overview on the according parameters to find the most suitable sensor for your purposes.