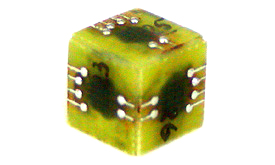 Model 3Dgreen with mounted and sealed magnetometer sensors
Model
3Dgreen
is designed for full-vector-measurements of the magnetic field and can be used in SQUID systems for active compensation of magnetic disturbances.
The sensor consists of three low-Tc dc SQUID magnetometers with a field sensitivity of better than 1.6 pT/Hz
1/2
mounted orthogonal to each other in the holder.
A complete cryogenic insert including the standard SQUID electronics for the three sensors and control software is also available.
Main Parameters and Properties: