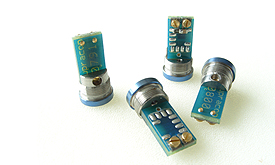 different SQUID sensors mounted
Model
VCblue
is a low-TC dc SQUID current sensor with low input inductance and moderate current sensitivity. It is designed as an amplifier SQUID in double-SQUID systems suitable for readout signals form separate SQUIDs placed at extremely low temperatures or from SQUIDs in multiplexing schemes.
The Model
VCblue
integrates an input coil, a feedback coil, and a heater on the chip. The adaptation of the number of turns in the input coil allows a perfect matching of the first stage SQUID.
For mechanical protection and easy handling the SQUID Model
VCblue
is placed inside a glass fiber package and magnetically shielded by niobium screen. It has four pairs of solder terminals with metal wire bond connections to the chip: one is for the SQUID output, one for the feedback coil, one for input coil, and one for the heater resistor. This resistor allows easy expelling of frozen flux in the SQUID loop.