Fetal magnetocardiography (FMCG)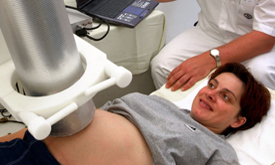 FMCG prototype
Supracon
joined forces with the developers of the
Leibniz-Institute of Photonic Technology (IPHT)
and the
Grönemeyer Institute for Microtherapy
to create an unique device for prenatal diagnostics.
A non-invasive diagnosis of the fetal heart function using our special superconducting sensors (SQUIDs) is the objective of the development efforts.
We are supported by the federal ministry of economics and technology.
Background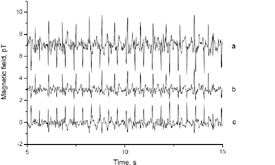 Signal of fetus at the 36. week of gestation measured in unshielded environment, top: mother and fetus signal, middle: mother signal, bottom: fetus signal
The routine screening of fetuses is currently being conducted primarily by Cardiotocography (CTG) and Doppler-ultrasound in clinical practice. Differentiated clinical diagnostic value of these methods has limits especially when it comes to precise analysis of heart rate variability and the assessment of fetal arrhythmia. Electrocardiography (ECG) cannot be routinely applied because the electrically isolating Vernix caseosa around the fetus substantially attenuates the signals.
The magnetic fields produced by the fetal heart however propagate unhindered. Our measuring devices ultimate sensitivity allows the detection of biomagnetic signals from the 2. trimester of pregnancy onwards.
Clinical relevance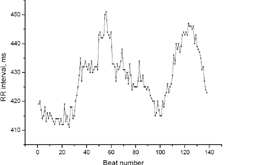 heart rate analysis of a 28 week old fetus shown as R-R interval
Fetal Magnetocardiography measurements are of special clinical relevance for the identification and classification of fetal arrhythmia.
Secondly, the high temporal resolution of the method allows a very precise and sophisticated analysis of the heart rate variablity which reflects amongst others the status of wellbeing of the fetus. To monitor whether the unborn child is in acute stress can be of clinical importance.
Thirdly, the morphology of the PQRST interval can be used as indicator for growths retardation and potentially also ischemia.
Status Quo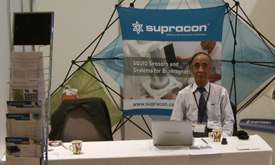 Mr. Maikawa, japanese sales representative on BIOMAG 2008
A prototype unit was successfully tested in our laboratories and in the
Clinic of Gynaecology and Obstetrics of the University Clinics Witten/Herdecke
at the Marien-Hospital Witten with the excellent support of Prof. Dr. Wolfgang Hatzmann and Dr. Sven Schiermeier.
Our development status was received with great interest during the presentation at the international conference for Biomagnetism (BIOMAG) 2008 in Sapporo, Japan. Jointly with the research group of Hitachi
Supracon
is the technology leader in FMCG systems for unshielded clinical environment.
Future perspectives
According to our investigations we expect clinical acceptance of this promising method as soon as easy operable, relatively inexpensive systems without the need for an extensive magnetic shielding become available. The progresses in SQUID technology both in hard- and software of the recent years have brought us closer to these goals.
The method is non-invasive, involves no radiation, contact with the patient, pain nor contrast agents. It is therefore extremely patient friendly.
It is
Supracon´s
vision to establish this innovation as a routine clinical diagnostic tool therby improving medical care. To achieve this we are looking for further partners that believe in this ambitious goal and can help in its realisation.
« back
Contact us
Supracon AG
An der Lehmgrube 11
07751 Jena
Germany

Tel.: +49-3641-2328100
Fax.: +49-3641-2328109

info(at)supracon.com