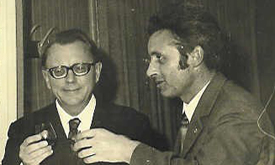 Supracon´s
roots can be traced back to the pioneering times of superconductor electronics.
In the late sixties of the past century, just a few years after the discovery of the Josephson effect,the Department of Detector Physics was founded at the
Friedrich-Schiller-University
, in Jena. This department can be considered the forefather of the widely ramified Jena Superconductor Community.
More than two years before Ketchens paper the Jena group first reported the fabrication and successful operation of a fully integrated (including input coil) thin film SQUID. In the early eighties another important milestone was reached when the first multiloop SQUID design (UJ 111) was developed an tested successfully.
In the eighties the SQUID applications were dominantly focused on biomagnetic measurements. From these activities a scientist group spun-off and settled at the Physico-Technical Institute (PTI) of the former Academy of Science in Jena.
The German reunification 1989-90 gave another big impulse for the further development of superconductor technology and electronics in the city of Jena, which indeed became in the subsequent few years one of the leading superconductor centres in Germany.
The different groups of the Jena Superconductor Community comprises about 120 scientists, engineers, technicians and PhD students collaborating closely. The two recently founded companies Jena SQUID GmbH and
Supracon AG
can be considered as the youngest children of the community.