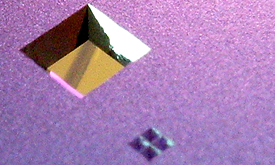 sharp edged structures in silicon
Silicon components are being applied in optics utilising the special properties of the silicon mono-crystal.
Depending on the crystal orientation we can realise extremely sharp edged geometries by wet chemical etching. Such structures are extraordinary well suited for optical components such as controllable blends or slits in optical beam paths.
Effects of diffraction and optical losses can considerably be reduced. For the elimination of scattered light we can additinally introduce anti-reflex depositions specifically adapted to wavelength and angle of incidence.