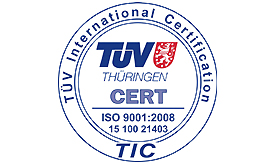 In July 2010
Supracon
had been audited and certified successfully by TÜV according to ISO 9001:2008.
The certificate confirms that the internal processes of
Supracon
fulfil the high demands of ISO quality standards and product properties proposed to the customers will be met.
This success is based on integration of consequent quality control within company's strategy and its realisation.